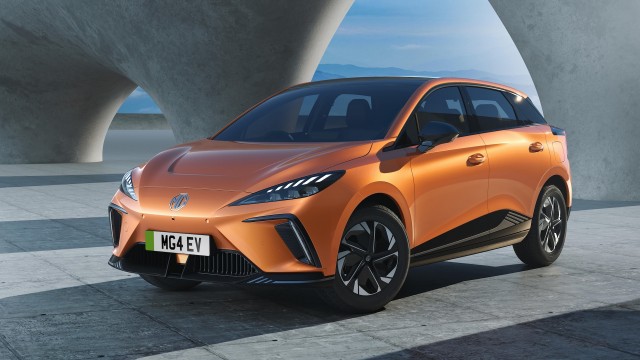 Italy's road to electric mobility has been featuring substantial setbacks in recent months, and the start of 2023 was no different. With the rest of Europe firmly progressing in its upward trajectory, the land of the most famous supercars seems yet undecided as to its future.
January blues
This year began with an ongoing theme from the Italian car market. Overall sales were up across the board, with the only exception of fully electric cars. With 130,000 registrations in January (data from Unrae), the market experienced an over 19% rebound Year-On-Year (YoY) in absolute numbers. ICE powertrains' market share remained stable, with petrol models scoring 26.4%, and diesels 19.1% (shares were 27.2% and 19% respectively a year before). Plugless hybrids made further gains YoY, reaching 36.7%, as most petrol models are now being mildly hybridised by legacy carmakers.
BEVs started the year at the wrong pace. With a total of just 3,342 units, full electric cars only managed to capture 2.6% market share in an otherwise strong car market. This meant an 8.6% volume reduction YoY, from 3,658 units and 3.4% share a year before. Persisting consumer uncertainty and lack of focus by automakers prevented a more successful kickoff, despite existing incentives. There are ongoing signs that the current state of affairs could be easily improved by a simple increase in supply and improved marketing by manufacturers, even in the absence of open government support. Competition among automakers will be key to any revival.
Plug-in hybrids kept their momentum, reaching 6,136 units, for a 4.7% market share. This was a positive result, with 10% YoY growth in absolute numbers, although it represented a reduced YoY market share (5.1% a year prior) due to the stronger rebound by non-electrified powertrains. Overall share of plug-in powertrains thus stopped at 7.3%, a rather low point and far from the already low 8.5% share achieved in January 2022.
The underwhelming start of 2023 was well reflected in the monthly Top 10 BEV chart.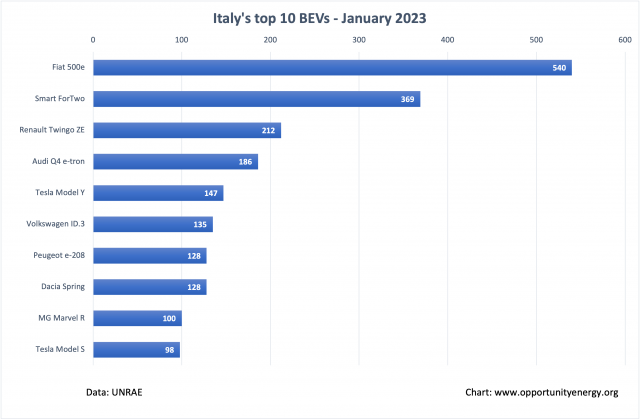 A largely predictable podium was led by Fiat 500e, whose 540 registrations were sufficient to beat competition by Smart ForTwo and Renault Twingo ZE, second and third with 369 and 212 units respectively. The very low sales levels meant the upmarket Audi Q4 e-tron managed to reach fourth place, ahead of Tesla Model Y, and even of Dacia Spring, whose reappearance in the chart is mostly due to the low numbers across the competition, rather than its obvious potential in a market primarily focused on pricing.
The Top 10 was completed by the new MG Marvel R, a reasonably priced SUV debuting in ninth position with 100 registrations, followed by no less than Tesla Model S, which made an unusual comeback to the Top 10 after a long absence.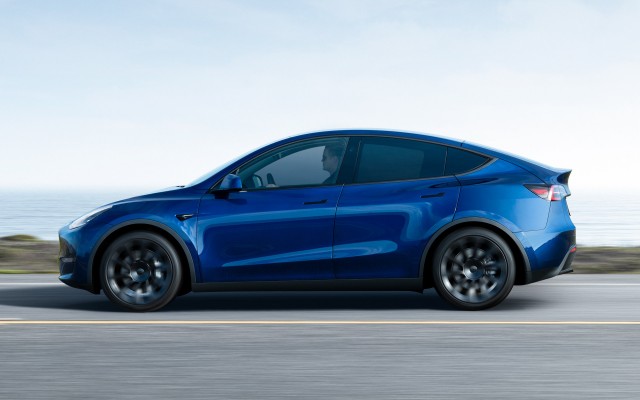 February thaw
February brought similar numbers to Italy's auto market, with an ongoing general rebound across all powertrains. Over 132,000 units were registered in the month, with another substantial YoY increase of 17.6%. Traditional ICEs broadly maintained their usual market share, with petrols reaching 26.1% and diesels decreasing to 19.2% (from 26.4% and 22.2% respectively). Full and mild hybrids kept steady in the lead with 36.5% market share, slightly increasing YoY from 34.3% in February 2022.
Full electric cars scored their first positive monthly run of the year, with 4,914 registrations. While far from being an outstanding result, it marked a substantial 54.7% YoY increase, with a resulting 3.7% market grab, a decent improvement over the previous year's subpar 2.8%, and even on the previous month's measly 2.6%. A reason for cautious optimism, after the slow start of the year.
Plug-in hybrids kept steady with 5,615 units, taking 4.2% market share with minimal YoY growth in absolute numbers (from about 5,500 units in February 2022), but an actual decline in market share over the same period – given the better growth of other powertrains. Combined sales of plug-in cars reached 8%, an overall poor result given the level of rebound by fossil fuel powered alternatives.
February's Top 10 BEV chart shows how full electric vehicles managed to re-gain some ground. It is down to one car.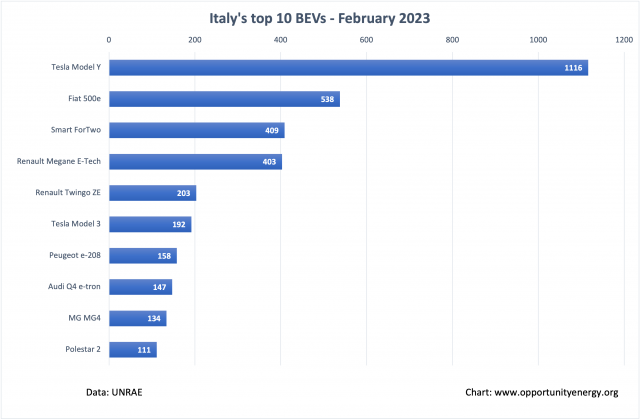 Tesla Model Y gained in fact its first crown of the year, with a noteworthy 1,116 units, unusual result for a non-quarter-end month. This performance was more than double that of runner-up Fiat 500e, steady in its subdued performance with 538 registrations. Third place was taken by Smart ForTwo, ever present competitor to the Italian mini, with 409 units.
Renault Megane E-Tech had a strong run, barely missing the podium with 403 units and starting to show its true potential in the C-segment. Tesla Model 3 reappeared in the Top 10 for the first time since September 2022, with 192 units in sixth position. The return after such prolonged absence was undoubtedly due to January's sudden price cuts by Tesla, which are destined to make a difference in coming months (Model 3 has longer lead time than Model Y due to its production out of Europe). The interesting MG MG4 made its debut in the Top 10, adding yet another C-segment hatchback to the growing number of VW ID.3 competitors. Polestar 2 also made its first appearance in the chart, although it is unlikely to become a staple presence.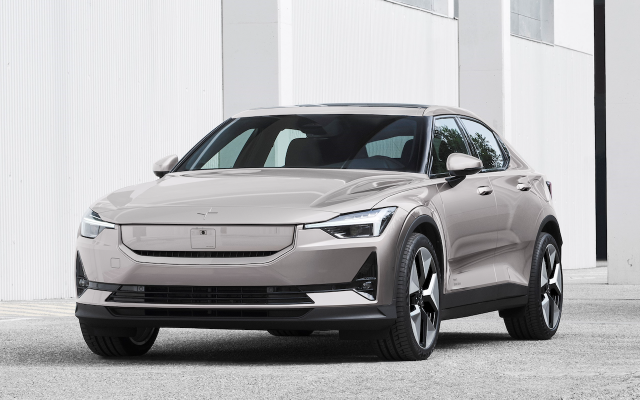 Better times in sight?
With a bad start in January, followed by a warmer February, EV sales in Italy continued their journey through uncertainty in early 2023. With no changes to existing incentives, and no major marketing moves by legacy automakers, the future remains difficult to predict. Tesla's January price drops are however a factor that will inevitably make a difference in coming months, as February sales have already started to show. Even if no other auto maker follows Tesla's lead in cutting prices, we can expect Italy's BEV market to be kept afloat (or even move to higher ground) thanks to Model 3 and Y sales alone.