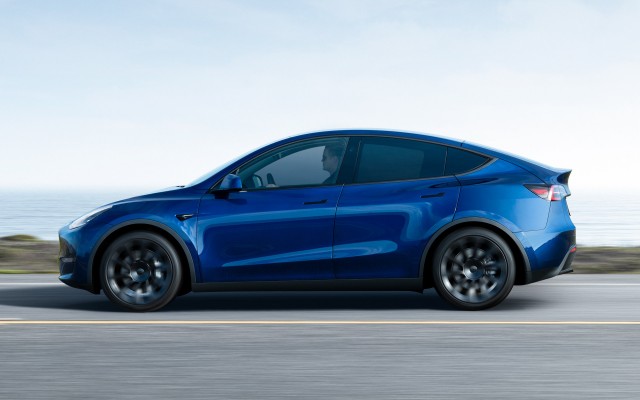 Italy's shift to electric mobility is experiencing an uncertain path, following what was a very promising exponential growth rate that lasted until 2021. As 2022 proved to be a lost opportunity, much in contrast with other major European countries, 2023 is progressing with rather mixed signals.
Official stats for the first quarter of the year (see Unrae) show an auto market in full recovery from the covid pandemic lows. This recovery, however, is not biased in favour of electrified options, but rather spread out across all powertrains. Overall market reached more than 430,000 registrations, marking a +26.1% increase Year On Year (YoY) over 2022′s underwhelming numbers. Traditional ICE vehicles had a good run in Q1, maintaining stable market share while growing in line with the broader market. Petrol powertrains took 27.1% share (it was 27% a year prior), while diesels settled at 19.6% (down from 20.8%). Plugless hybrids grew their bestselling share in Q1 to 35.8%, up from 33.8 a year ago. As can be seen, HEVs seem to be stealing share more from diesels than petrol units, whose previous steady decrease has halted since a few months ago. With such strong performance from combustion engine models, how did plug-ins fare?
Full electric cars scored 16,455 registrations in the first quarter, a substantial gain of 45% over the 11,350 units recorded in Q1 2022. With such a buoyant market, however, this meant a proportionally lower increase in market share, which only grew to a still modest 3.8%, from 3.3% YoY. On a more positive note, Q1 2023 was also a better performance when compared to that of the first quarter of 2021, which turned out to be a record year. BEV registrations had been just over 13,000 then, and continued to climb from there. It is unlikely that 2023 will show the same trajectory for full electrics, but only time will tell.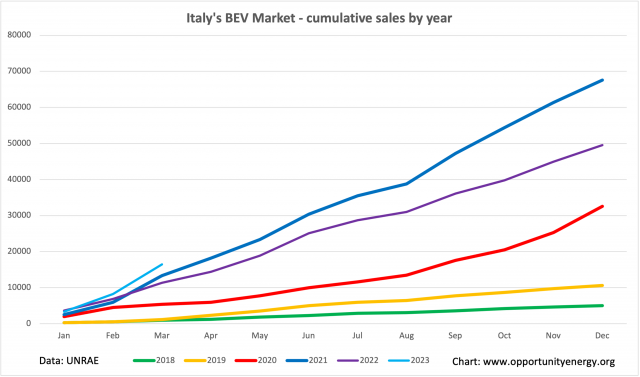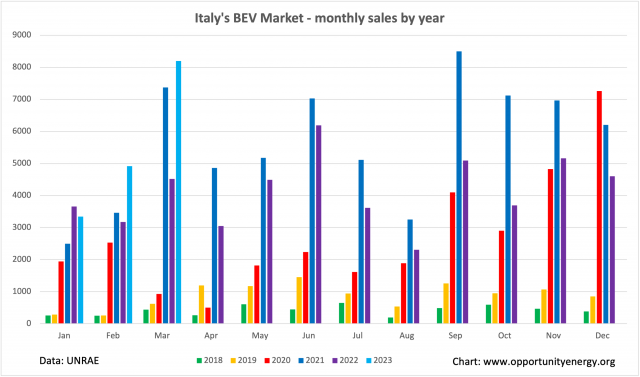 Plug-in hybrids performed better than BEVs in Q1, with 19,090 registrations. This meant an 11% increase YoY from 17,197 units. At 4.4% share, PHEVs however saw a decline from last year's 5.0%, obtained in a smaller market. This was also their strongest first quarter to date in terms of absolute figures. As seen since last year, PHEVs seem to still be Italy's preferred electrified powertrain with a plug, in increasingly stark contrast with the rest of Europe, where hybrids are stalling or slowly being pushed away by BEVs. Despite the positive performances, combined plug-in powertrains (PHEVs + BEVs), while up almost 25% for total registrations, only achieved 8.2% market share, slightly down from 8.3% in Q1 last year.
In a year that is proving difficult to decipher, identifying individual models' rankings can help better understand the dynamics at play. We now have a Top 20 BEV quarterly chart to review.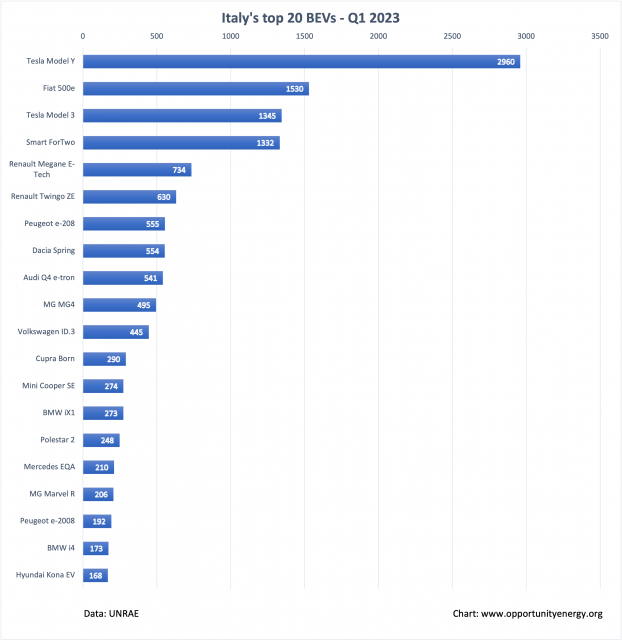 Tesla Model Y took a decisive lead in Q1, with half its registrations being fulfilled in March alone. Following months of growing deliveries, the D-segment SUV is pacing up in 2023 after recent price cuts. A record year is anticipated for the Model Y, now that Berlin's Gigafactory is churning out several thousands of them each week. Not only was the Y the best selling BEV in Q1, it was also the leading SUV in its D-segment across all powertrains, outselling the Audi Q5 and Mercedes GLC. We can expect this lead to grow even wider in months to come, as Tesla keeps increasing production at all its factories, with possible further price reductions always in the cards.
At a noticeable distance, runner-up Fiat 500e took second place with 1,530 units, about half the numbers of the much more expensive Tesla Model Y. This marks a decline for the popular A-segment from Fiat, compared to both last year and 2021. While the 500e is enjoying growing success abroad, it seems that current, reduced domestic incentives and perhaps Fiat's own decision making are throttling demand to levels which are way lower than the model's true potential. With Stellantis's commitment not to engage in price wars, it is unlikely we will see any big changes in numbers in the short term.
In third place, the podium was closed by Tesla Model 3, which made a powerful comeback in the chart after an anemic 2022. With recent price cuts, every trim of the most popular electric sedan in the world is now more accessible than ever. At 1,345 registrations in Q1 (most of which in March), Model 3 clearly threatens the Fiat 500e, which could be overtaken by as early as Q2. The miniscule Smart ForTwo trailed the Model 3 with 1,332 units, an unimpressive result for a much lower priced vehicle, which was also far from its 2021 delivery records.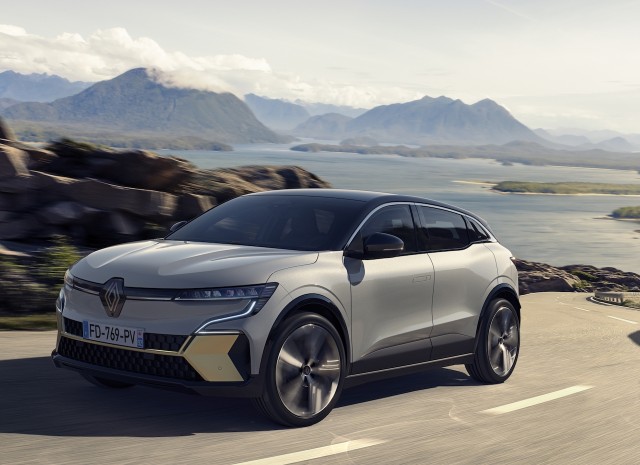 The C-segment Renault Megane E-Tech took fifth place, above cheaper and smaller models such as the Renault Twingo ZE, Peugeot e-208 and the Dacia Spring, the Romanian model being a victim of low production levels and logistical constraints, that kept it down from the record numbers of last year. The MG MG4 made its debut in tenth place, slowly climbing the ranks, and already above models which have been selling for a much longer period. VW ID.3 was out of the top 10, in eleventh position, continuing to sell in less than flattering numbers, along with several other models that are not meeting the success that was hoped for. Hyundai Kona EV is a striking example, down at the bottom in twentieth place, with a meager 168 registrations in three months. Even more surprising? Nissan Leaf stayed far out of the chart, ranking #25, while the former BEV queen Renault Zoe was even lower at #31.
With the general public still largely unaware of available options in electric mobility, the Italian EV market relies on a small number of successful models in its slow, hard race to mainstream. Despite Italy's predilection for city cars, these are now the very ones that are limiting their contribution, in the face of lower incentives and persistingly high prices. While A- and B-segment BEVs betray an ongoing lack of appeal, it is once again down to Tesla to lead the way, with ever improving vehicles, at ever more competitive prices. This will shore up the Italian EV market and increase electric cars' visibility, but will legacy carmakers follow?