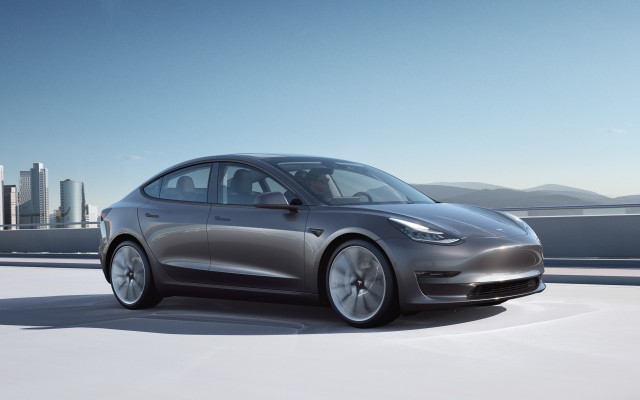 As we reach the midpoint of 2023, the Italian car market continues to experience a sustained rebound. With June's figures confirming burgeoning growth for mild hybrids, plug-in vehicles struggled to match figures seen elsewhere in Europe. Meanwhile, Tesla stays in a league of its own.
Official statistics by Unrae for the month of June show a tonic car market, with over 140,000 overall registrations, marking a 9.4% increase Year-on-Year (YoY) compared to June 2022. Petrol and diesel powertrains reached 28.5% and 18.5%, down from 29.1% and 20.8% respectively YoY. Plugless hybrids were big winners this month, as the most popular powertrain grew almost 31% YoY to reach 34.8% market share, up from 29.1% a year before.
Full electric cars did not manage to follow HEVs in their growth trajectory, recording instead a dull month with no YoY growth. In fact, the 6,159 registrations were some 30 units shorter than the figures achieved a year before in a smaller market. This result meant a modest 4.4% market share, down from the 4.8% achieved twelve months earlier.
Plug-in hybrids, in line with previous results, reached higher sales than BEVs, a peculiarity of the Italian market that continues to buck the trend set anywhere else in Europe. With 7,539 units recorded in June, PHEVs grew a modest 6.5% YoY, from just over 7,000 in June 2022. At 5.4% market share (5.5% a year prior), PHEVs lost out to growth in the broader car market, HEVs in particular. Combined registrations of BEVs and PHEVs thus stopped at 9.8%, down from 10.3% YoY.
In a new month of sluggish plug-in sales, which models were the culprits and which ones the exceptions? The monthly Top 10 BEV chart confirms mostly unimpressive numbers, with the usual outliers helping prop up overall figures.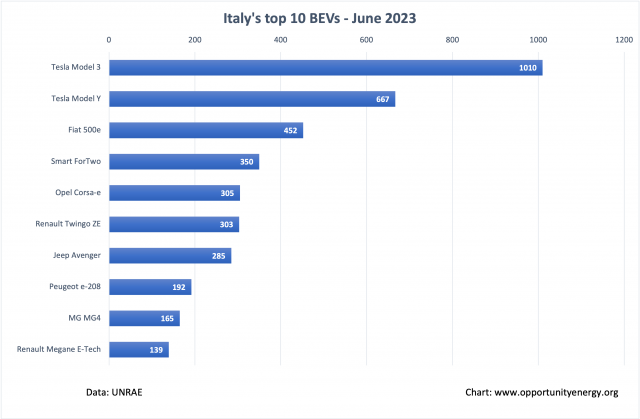 In a surprise push, Tesla Model 3 managed to soar to the best selling BEV spot, with a whopping 1,010 registrations. This was the D-segment sedan's best result since March 2021, when it still didn't have any direct competition, internal or external. Recent, extensive price cuts have made the Model 3 an outstanding value-for-money proposition, with the base version now even eligible for government incentives. An important result at quarter end was therefore anticipated, but perhaps not to this extent.
The Model 3′s exploit was all the more impressive as its sibling, Tesla Model Y, came in a distant second, with "only" 667 units, an unusually low point following four consecutive months at the top spot of Italy's BEV monthly rankings, including a near 1,700 units peak at the end of Q1. The popular SUV's missed end-of-quarter pop is unlikely to be due to anything but pure logistics, as Model Y enjoyed otherwise unprecedented results elsewhere in Europe. It may therefore be a simple question of supply constraints in the face of increasing global demand for what is likely be 2023′s best selling car in the world overall.
Distant followers to the Tesla pair, Fiat 500e closed the podium with 452 registrations – far from its past glories – while Smart ForTwo only managed 350 units in fourth position. More compact models trailed the Smart, with the notable debut of the brand new Jeep Avenger in seventh place with 285 registrations. The 2023 European Car of the Year should do well in Italy, as Jeep used to be owned by Italy's Fiat before FCA merged with PSA Group to form Stellantis, and is thus considered a local brand. Its small size, rugged look and crossover styling look promising, although pricing will remain the most important factor determining the long term success of this appealing model.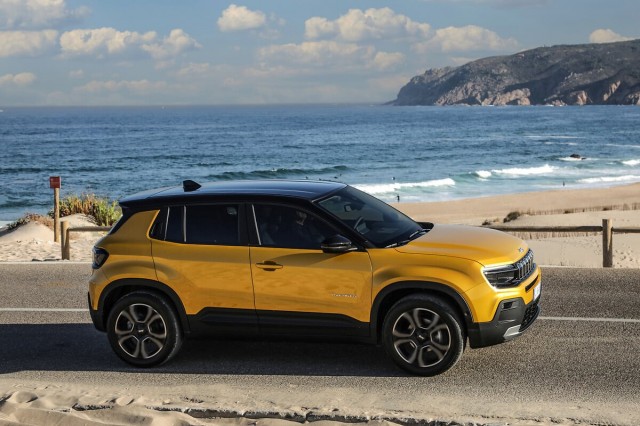 At the bottom of the chart, the C-segment was finally represented by the affordable MG MG4 (ninth place) and the more premium Renault Megane E-Tech in tenth position. Both models, however, stopped short of the strong performances that a quarter-end push may have normally expressed – perhaps also a logistical limit as demand in Europe remains strong.
In yet another month of uninspiring results, Italy's electric market was uplifted by Tesla's dominance. Even with a relatively weak performance by the Model Y, the upmarket brand nonetheless managed to make up over a quarter of all BEV sales in a region usually dominated by low-cost options. If legacy carmakers have any interest in recovering sales levels in this challenging – yet large- auto market, it may be time to reconsider their pricing strategies and renew their focus on electric mobility.