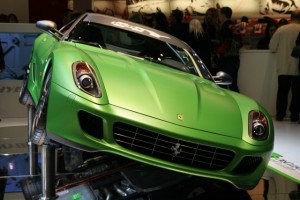 I've been a huge fan of Geneva's Motor Show for a long time, but to me this year's exhibition marked a transition between the past and the future. In its last few shows I got used to my eyes bulging at the latest super-powerful sports cars, or the newest models from both mass and upper market makers, all inevitably featuring sporty versions (my favourite) with high acceleration – and  fuel consumption – figures. But this year was different: a slew of new electric and hybrid models flooded the Geneva 'Salon Auto'.
Virtually every major carmaker put on display one or more plug-in cars (Renault, Nissan, BMW, Mercedes, Peugeot, Citroen, Ferrari, Porsche, Audi, Seat, Volkswagen, Toyota, Lexus, Opel  just to name a few) but, what matters most, those vehicles were the ones which generally grabbed most of the public's attention. If style is what always attracts show goers first, the technology lying beneath the skin is the next wonder. So here we go, from the top down, giving a brief summary of the most attractive new models the Geneva Motor Show offered to car enthusiasts from all over the world, and what this may mean for the coming decade.
Porsche's hybrid prototype Spyder 918 was perhaps the biggest surprise of the exhibition. Sporting both a 500-hp V8 and a pair of electric motors (one per axle) producing an additional 218 hp (160kW), this stunning concept car allegedly reaches  62 miles per hour in 3.2 seconds, 198 mph top speed, whilst achieving 78 miles per gallon and just 70 grams of CO2 per kilometer. Whether these figures are real is to be confirmed, but it's the concept behind all this that counts. Porsche are seriously venturing in the plug-in market (and they usually bring their prototypes into production), something hardly anyone would have thought possible just a couple of years ago. This is probably due to the likes of Tesla, threatening to eat in Porsche's market share with its full electric roadster, rather than to the German carmaker's fuel-efficiency consciousness, but it nevertheless represents a huge step in a new direction, and a move that they will be unlikely to reverse.
Runner-up in the car enthusiast's imagination was probably Ferrari's 599 GTB Fiorano Hybrid prototype. The concept car boosts a 100+ hp electric motor in addition to the 6.0-liter, 611-hp V12 engine. Ferrari's Hykers regenerative braking system (where 'Hy' stands for hybrid and 'kers' refers to the Kinetic Energy Recuperation System Ferrari used during the 2009 F1 season) helps recharging the floorpan-fitted lithium-ion batteries. "This is a first step of a long project and we want within three years, maximum four, to have a hybrid Ferrari car ready for every single product of our range. This is our goal," said Luca di Montezemolo, Ferrari's Chairman. "In three years we aim to cut emissions by a minimum of 35 percent". Again, this is hardly an environment-conscious carmaker, yet their fast-growing engagement in experimenting hybrid powertrain technologies bears witness to the attention the car industry is now giving to alternatives to the century-old internal combustion engines. At a pace never seen before.
In the list of the most interesting and eye-catching new models and prototypes, Mercedes sported the F800 Style plug-in hybrid, a concept car that mimics the future style of its CLS model, and whose drive unit consists of a 300-hp V6 gasoline engine coupled to a 109-hp electric module. The vehicle has a certified fuel consumption of only 2.9 liters of gasoline per 100 kilometers, corresponding to CO2 emissions of 68 grams per kilometer, less than 50% of the average UK new car. With the performance of a sports car (0-60 mph in 4.7 s, top speed of 155 mph) its hybrid drive is set to appear in various future models from Daimler-Mercedes, while the German maker also puts down some roots in the full electric market through its partnerships with Tesla and the Chinese BYD, and the production of the Smart EV (also widely displayed).
General Motors' Opel Flextreme GT/E Concept also premiered at Geneva, featuring the Chevrolet Volt / Opel Ampera drivetrain. Unlike conventional hybrids, the wheels of the Flextreme GT/E are powered at all times by electricity, with a small gasoline engine working as generator to provide electricity when the batteries are flat. With a battery-powered driving range of up to 60 km – with zero CO2 tailpipe emissions – and a total range of more than 500 km provided by the range-extending gasoline generator, average fuel consumption is estimated at 1.6 l/100 km, with CO2 emissions of less than 40 g/km. The motor in the electric drive unit delivers 120kW (163 hp) and 370 Nm of instant torque, giving the car a projected 0-100 km/h acceleration in less than nine seconds.
Seat surprised visitors with its beautiful IBE full-electric prototype. With a maximum output of 75 kW (102 hp) and 200 Nm of torque, its electric power unit delivers 0-100 km/h in 9.4 seconds. The 18 kWh battery pack allows the IBE to cover the daily mobility requirements of city life, while keeping its weight down to just 1,000kg. Anticipating the information network of the future, the car is capable of exchanging data about its status or safety alerts directly with other vehicles or the traffic infrastructure. Sources from the Volkswagen-owned maker claim the concept will be brought into production, consistently with Spain's overall electricity grid strategy, to provide more and more power through renewable energy.
Audi featured the A1 e-tron prototype, the electric version of its latest model, also premiering in Geneva. The lithium ion battery pack has a capacity of 12 kWh, with a range of about 30 miles (48 km). The electric motor provides a standard output of 45 kW or 61 hp, with a peak power of 75 kW or 102 hp helping the car to perform 0-100 km/h in around 10 seconds. The motor and all of the power electronics reside in the car's front. A small Wankel engine sitting below the cargo floor of the car can extend the A1 e-tron's range to 130 miles.
Peugeot stunned show attenders with its gorgeous 3-seater convertible SR1 concept car. Its hybride powertrain offers a 1.6 l engine, delivering 160 kW (218 hp) to the front wheels, coupled with a 70-kW (95-hp) electric motor to the rear wheels,  for a total of 230 kW (313 bhp) with CO2 emissions of 119 g/km (0 in electric mode), 4 wheel drive and steering. 0-100 km/h in 4.7 s, top speed 250 km/h (155 mph).
More plug-in models were on display from Peugeot (the electric mini i0n and the diesel hybrid "5 by Peugeot"), Citroen (from the supemini sporstcar Survolt concept, to the future model C-Zero, both full electric), Toyota and Lexus (with their ever increasing fleet of hybrids), Honda (the stylish EV-N and the three-wheeled 3R-C), Volkswagen (their first hybrid Touareg), Hyundai (the diesel hybrid i-Flow), Nissan (the well known Leaf),  Renault (their three creative EV concepts Twizy, Zoe and Fluence are ready for the "Better Place" battery-swap system) and other makers.
I could go on forever, but I prefer to finish my list with a couple of refreshingly simple electric models that got my attention more than others. The Kia Venga EV, a battery version of the normal production model, nicely demonstrates how the electric alternative to a production model needn't look different; it features an electric motor with top power of 80 kW and maximum torque of 280 Nm, while its 24 kWh battery pack gives it a range of about 180km (112 miles). And finally, the BMW ActiveE concept, based on the 1 Series coupe, shows BMW's growing commitment to pure electric vehicles, alongside their hybrid options also displayed on stage (most noticeably the new 5 Series ActiveHybrid). The ActiveE retains the 1 Series four seats and a 200 liters boot, boosting a 170hp electric engine capable of a 0-100 km/h acceleration in 8.5 seconds, with a range of about 100 miles (160km). 700 units of the Active E will be leased this year around the world for testing, similarly to what was done with the Mini E last year.
Geneva's pattern was clear.