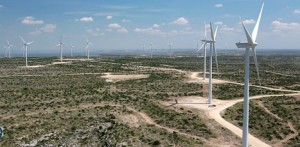 Giant wind turbine producer Vestas received its largest order ever of wind turbines for a single site.
190 V90-3.0 MW turbines will be delivered to Terra-Gen's Alta Wind Energy Center near Tehachapi, California, USA. The order – to be delivered in late 2010 and commissioned within the first half of 2011 – will top up the existing installed capacity at the site, and help reaching the target 320-turbine 800MW capacity of the Alta-Oak Creek Mojave Project. Terra-Gen Power is a developer of renewable energy focused on wind, geothermal, and solar generation. In total, Terra-Gen owns 831 megawatts (MW) representing 21 operating renewable energy projects across the western United States.
This order marks a new victory by Vestas in 2010 in the growing battle for market share with the likes of GE or Mitsubishi in the US market. Vestas is the World's leading turbine manufacturer with about 35,000MW of installed capacity as of the end of 2009. This order marks Vestas' eighth North American deal announced in 2010, totaling 1,336 MW this year among four turbine types, and follows Vestas' all-time biggest order in April of turbines totaling 1,500 MW from Portugal's EDP Renovaveis and an option for a further 600 MW, a deal which lifted Vestas' shares sharply.
"The entire Vestas team looks forward to helping Terra-Gen bring this exceptional project to reality. When completed, it will be the largest wind farm we will have supplied turbines to in our 31-year history as well as the biggest in California," says Martha Wyrsch, President of Vestas Americas.
Amidst rumors of a sizeable drop in annual installations after the banner year 2009, this record order is certainly very good news for wind power in North America.
Link to Vestas Press Release
Link to Reuters article